A workstation will allow you to plug in your laptop and work in a more comfrotable position.
Each workstation should  include:
Monitor (screen)
HDMI cable
Keyboard
Mouse
If any of the this equipment is missing, damaged or faulty you can report it using the form below.
How plug you laptop into the workstation
Firstly, plug the HDMI cable coming from the back on the monitor into the HDMI port on your computer.

Ensure both your computer and the monitor are switched on. A a small blue light on the monitor will indicate it is is active.
When you plug in your laptop for the first time, you should see a duplication of the display on your computer screen appear on the monitor.
Finally plug the keyboard and bouse into the USB ports on your computer.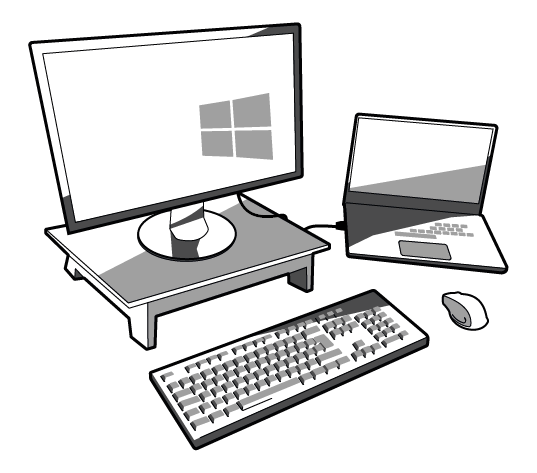 Workstation and laptop setup
Changing your screen set up
You can change the screen settings once you have signed in to your computer.
So to 'Settings' => 'System' =>  'Display'
Scroll down to 'Multiple displays'
From the drop-down menu you can choose one of the following options:
Duplicate these displays – the same display will show on both the monitor and the computer
Extend these displays – both the computer and the monitor are linked and usable at the same time for separate displays
Show only on 1 – the display will only show on the computer
Show only on 2 – the display will only show in the monitor
Once you have selected an option you may have to click 'Keep changes' if a dialogue box pops up.
The next time you plug your laptop into the same monitor, your computer should remember your pervious display settings.
The form below can be used to report issues with workstation equipment as well as requesting any additional resources you need to work comfortably and effectively.
If you believe any equipment is unsafe for use, please disconnect it immediately and label it 'unsafe, not for use', before completing this form.
We will try to respond to all responses within 3 working days, however for more urgent issues please speak to you're line manger. For problems with the operation with your computer, please use ESP as your first point of contact on 0330 2020 118.