To celebrate the second print run of Recovering Our Stories we are launching a very special giveaway. We are offering you the chance to win one of 3 packs of amazing original artworks from Glenn Hustler. Each prize pack contains:
An illustrated tote bag
An illustrated shirt in your choice of size (available: s/m/l/xl)
5 illustrated postcards
5 illustrated stickers
To enter, all you need to do is to share our Crowdfunder page on your Facebook or Twitter and make sure to tag us in the post or share or retweet the posts pinned to the top of our pages. Once that's done, that's it, entry submitted. While your there don't forget to buy your copy of Recovering Our Stories and donate! By sharing and donating you help us support others struggling with drug and alcohol use.
https://www.crowdfunder.co.uk/recovery-stories
Competition closes 11.59pm Saturday 9th January 2021 and winners will be notified through the accounts they posted from the week commencing 11th January 2021
1 entry per social media account
Recovering Our Stories
Back in 2018, artist and illustrator Glenn Hustler started a project with some of the people attending our Structured Recovery Programme. Glenn wanted to help individuals, all with personal experience of addiction and struggle with mental health, to tell their life stories to challenge the stigma that exists offer hope to others facing similar challenges. What came out of this work was a comic book, 'Recovering Our Stories'.
Recovering Our Stories tells the accounts of six individuals who have all been supported by Project 6 into recovery from drug or alcohol use. Told non-judgmentally and in their own words, the stories give a fascinating and honest account of how the issues raised come to affect anyone, regardless of age, class, gender, education or background. Over 68 pages, the stories told show the real people behind the labels of 'addict' or 'drunk' and beautifully show how we are all complicated beings with competing motivations and wants.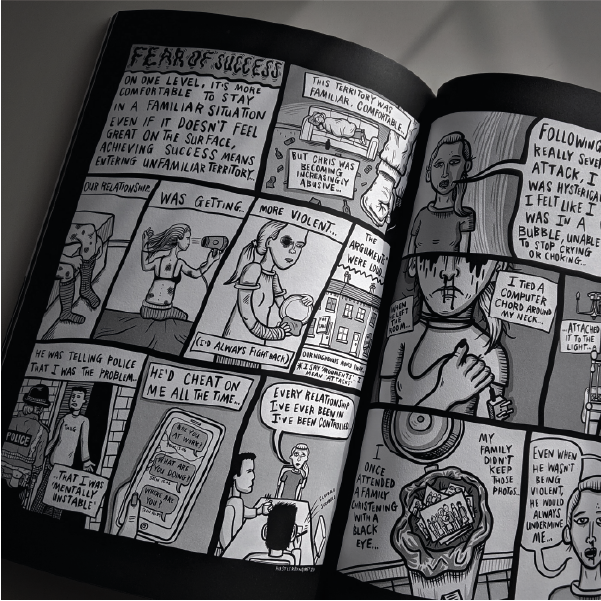 Recovering Our Stories was initially sold as a run of 100 copies. Once these sold out Project 6 commissioned a second print to share these remarkable and inspiring stories with a new audience.