We want to say a huge thank you to Tom who has been raising money for Project 6 and Ben's Centre in Sheffield.
Over the Easter weekend this year he took on the challenge of cycling the 1000 gruelling miles between Land's End and John O'Groats. Battling the isolation, A-road traffic and a prevailing north-westerly, Tom completed the mammoth journey in just a couple weeks. Motivated by the sad passing of friend Ant Allen, Tom wanted to do something to make a difference and support local charities in the city.
Tom along with Ant's Dad, Graham dropped by this week to say hello, meet the ARC team and find out about some of the work we do. There has been a huge outpouring of positive action following Ant's death. Ant was well-known in Sheffield as a musician and entrepreneur and many people from the friendships and networks he built have wanted to highlight the importance of the need for good mental health and substance use services.
There is still plenty of stigma surrounding the work of organisations like Project which means all too often stories like Ant's are overlooked. Because of this, fundraising activities likes the Tom's all the more valuable not just for the money but also the awareness they raise.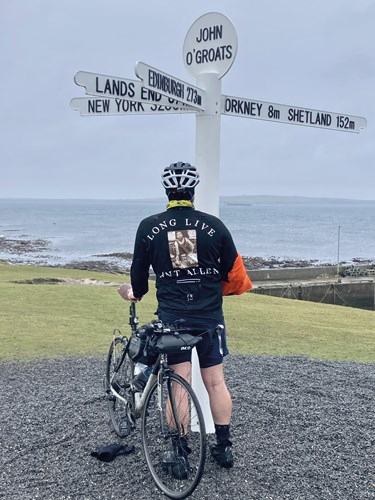 Our thanks again to Tom, Graham and all Ant's family for supporting Project 6.