Here you can find all the lastest news and articles from Project 6.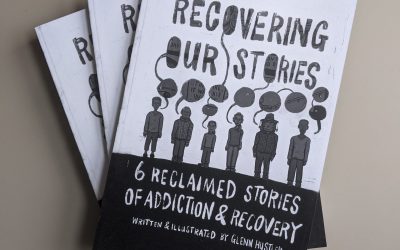 Thank you everyone who entered our Recovering Our Stories Giveaway. We had 3 winners, each receiving a pack of pize curtesy of Glenn Hustler. An illustrated tote bagAn illustrated shirt in your choice of size (available: s/m/l/xl) 5 illustrated postcards5...
We are pleased to announce our Impact Report for 2020 has arrived! Its been another fantastic year providing services for individuals, families and communities affected by substance use, and/or experiencing multiple disadvantages. Download the report (PDF) Download...
You can find all our Christmas 2020 opening times here. Over the Christmas period some services will be offering specific activities and support, this page will continue to be updated with all the details. Click @Read More' to see the full list of opening times.
Waypoint Training are pleased to announce the launch of the first courses in their open course programme. Waypoint has a long-established track record for high quality, innovative vocational training that promotes excellence in working with a range of vulnerable...
read more
#bringbackharmreduction Tomorrow, on International Overdose Awareness day, we are launching a call to action. The drug and alcohol sector is in crisis. Drug related deaths are increasing at a phenomenal rate and in Scotland they are the highest in the whole world....
read more
We are delighted to announce that the long established Doncaster based alcohol charity, Doncaster Alcohol Services (DAS), will be joining with Project 6 on 1st July 2020. The merger means that DAS will be part of Project 6 and operate as 'Project 6 Doncaster –...
read more
Ladies and Gentleman, the class of 2020 As people enter Progress they are invited to join SRP. The Structured Recovery Programme (SRP) is a closed therapeutic group work programme which is currently delivered over 24 sessions twice a week. The programme requires...
read more
As one major British tabloid proclaimed, the 31/01/20 was a significant day for many Britons. The end of Dry January had finally come and thousands of those who had abstained throughout the month were free to raise a glass and toast… just about anything. Each year...
read more
We're here to help over Christmas. Our services will be open at the following times over Christmas: Mon 23rd Dec: OPEN AS USUAL Tue 24th Dec: 10.00-14.00 Wed 25th Dec: CLOSED Thur 26th Dec: CLOSED Fr 27th Dec: 10.00-14.00 Sat 28th...
read more
Project 6 brought the house down on Thursday evening with their take on the hit comedy whodunit, Cluedo. The Exchange in Keighley was packed with an audience eager to see the much anticipated debut performance which had been put on in partnership with Drama North and...
read more
Join us on 28th November for an evening of entertainment, fun and frolics. For one night only Project 6 in association with Drama North will be bringing to the stage the hilarious whodunit, Cleudo. To reserve your tickets please call 01535 610180 or drop into Project...
read more